Transporting you Into The Dreamhold!
It's the final day of August! You know what that means, August Community Update!
Step into our blog, grab a refreshment, and cool off from the heat both here in the real world and in Etheria.
There are spoilers for Season 1.2 below,
turn back now if you prefer to avoid them!
With 1.2 closing its door, our fellowship has lost the Dragonheart! Toragon may have put Etheria in a pickle when he broke it and tossed it somewhere unknown. Now the party must travel to the Dreamhold in search of the Fae! 
Will they be friend or foe? We're about to find out as the clock ticks down to our 1.3 Update release!
Roadmap – August Update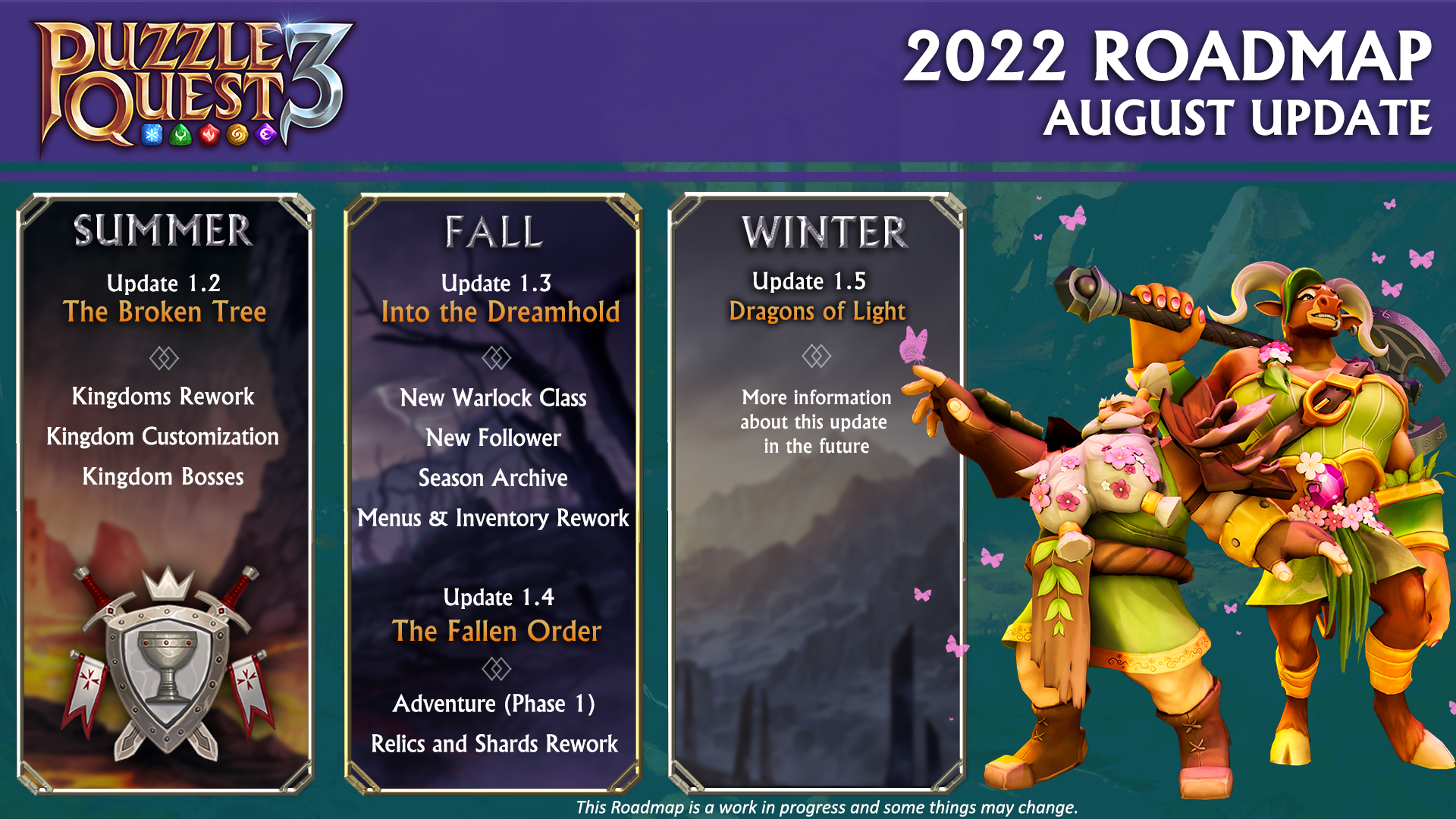 We're past the halfway point in 2022, which means we're starting to focus on our Fall and Winter content!
Winter is just around the corner, bringing 1.4 and 1.5 with it. In 1.4 we're very excited to bring you Adventure which is probably our favorite new game mode and will make a huge difference to the live events we can bring you! We're also bringing you some much-needed extra uses for food and bringing in some changes that will definitely ease some other frustrations we know you're feeling.

The 1.5 Update is still a little ways away, but we know we'll be adding more cool stuff into Adventure mode. So, let's leave the Fall and Winter updates for now. So sit back, relax, make the most of the Hawaiian shirt weather and let's talk 1.3! 
Update 1.3 might have a slightly shorter Season, but it's absolutely PACKED with not only a Follower but also a Hero, the Season Archive and the Menus & Inventory Rework!
Masters of Destruction
Remember last month when we gave you all a sneak peek at our Warlocks? Here they are in action!



Destroying, withering, and igniting all in their path, the Warlocks arrive with Season 1.3 on September 6th, featuring the Fae and Dark Elf. To add a little flair to their devastation, new Warlock Spells can be found in dungeon chests in Story Chapters I-XV!
It's a Lewk!
Last month we teased the rework we've done to the inventory, but there's so much more than that.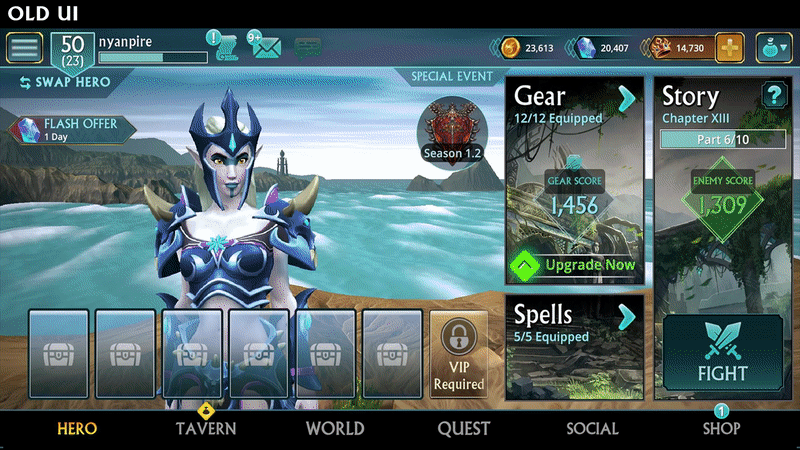 The new and improved Hero Tab is less cluttered, making it easier to read. 
We've also cleaned up the game menus to have a much more logical order, we've added a little merchant friend up the top who will look after any offers you have and the button in the bottom right will be a quick link to your favorite mode!
Which brings us to…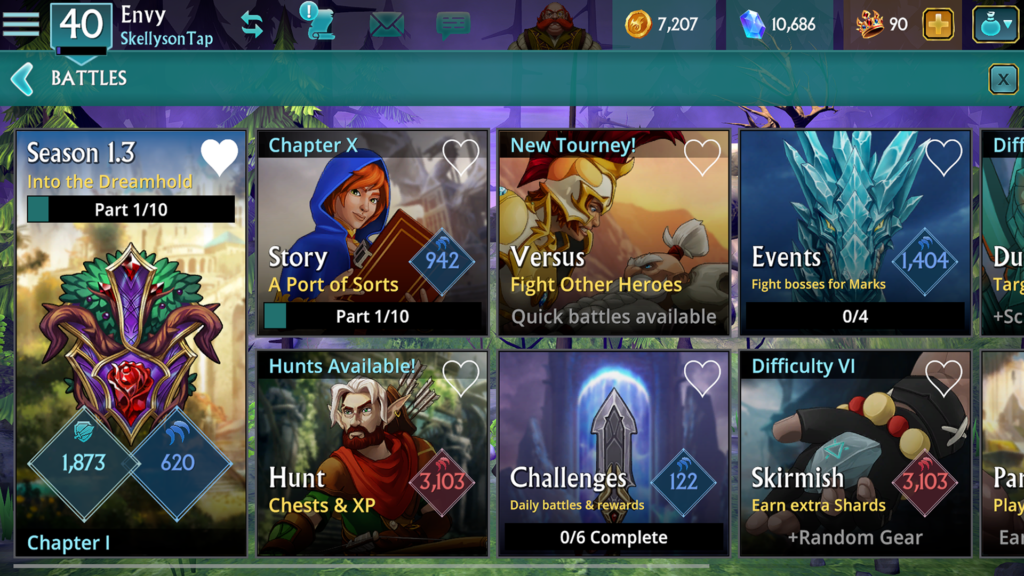 The new Battles tab!
We've created the Battles tab so that all of your action lives in one place: Story, Seasons, Hunts, Versus, Challenges, Events, and Skirmishes can all now be found in one central location. You can also pick your favorite mode and it will always be right in the big spot on the left (and it'll be Story by default).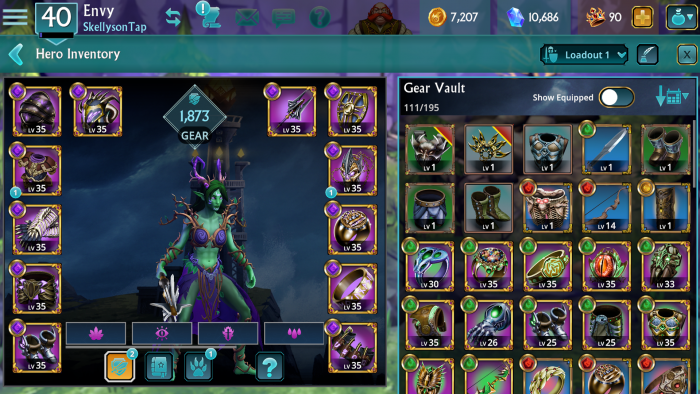 Gearing up? We know the old inventory system wasn't the easiest to navigate and wasn't the most elegant thing to use, so we've revamped it. Now inventory sits in a grid system, making it way easier to see what you've got in storage and what's equipped. You can filter easily and even see your spells and Minions right here!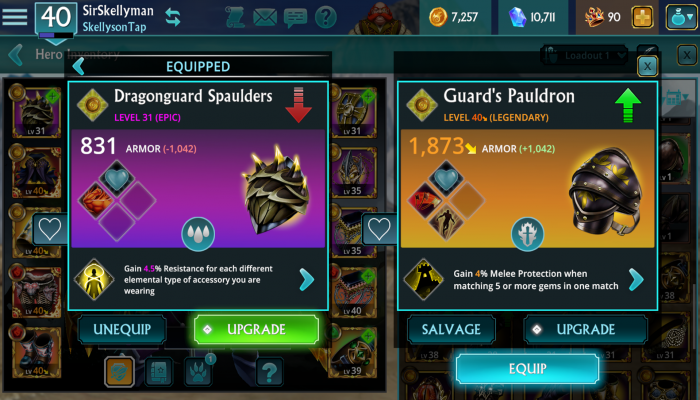 Not only did we want to improve upgrading and comparing gear by making it much clearer at a glance what's happening, we also wanted to address how easy it was to accidentally salvage something you didn't want to and how difficult it was to mass salvage.
Salvaging anything via this menu will first give you the option to mass salvage and will warn you if you're about to salvage something that's either a favorite or equipped gear.
Resh is the name, Buffs are the game!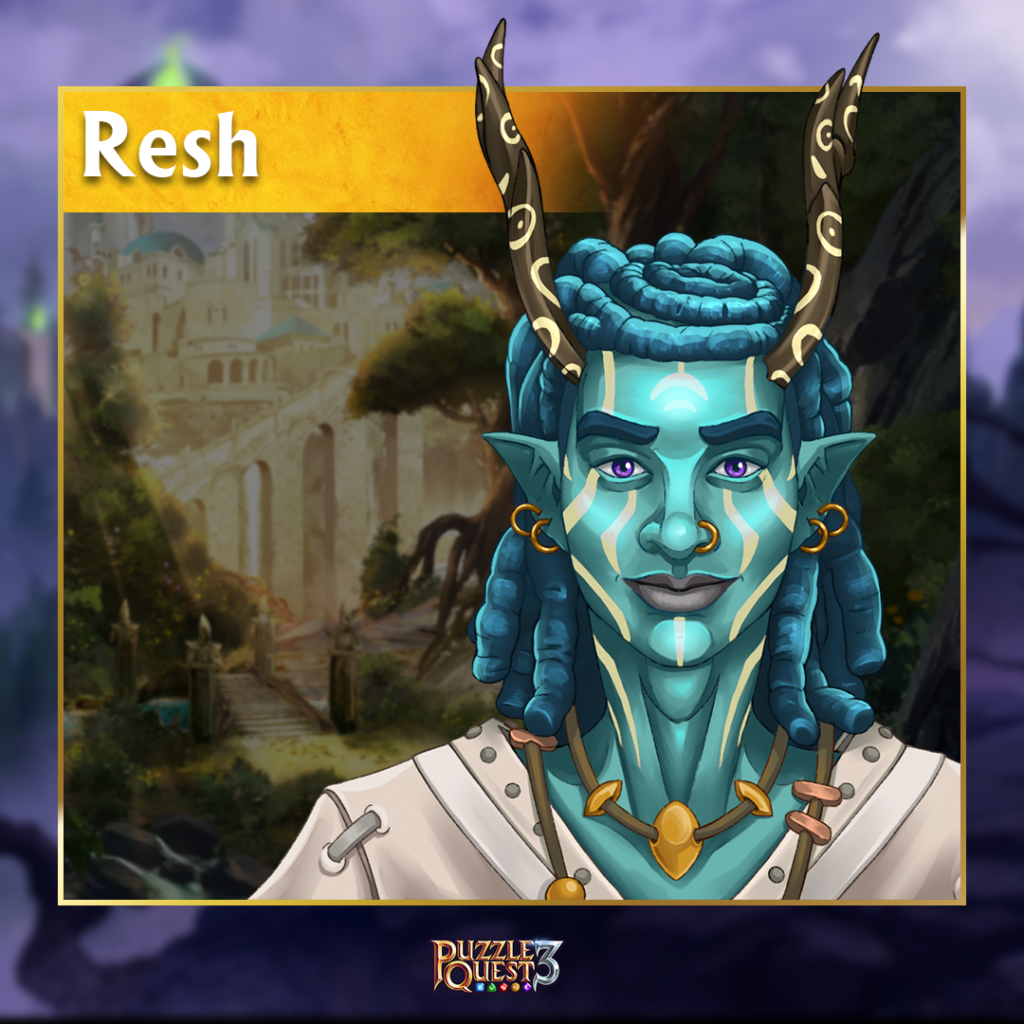 Our mystery "friend" has finally arrived! Resh is your newest follower, but we're still unsure of his motives. 
As a follower, Resh offers aid in the form of a % chance buff to you at the start of a battle. Additionally, Resh also offers mystery gifts! …For a price.
Though he may be guiding you through the Dreamhold, you may want to keep a watchful eye on this guy.
Feeling Nostalgic? Check the Archive
You can now enjoy older Seasons in the Season Archives, maybe you're new to the adventure, or you want to refresh your memory with the ghosts of Seasons past.

Access the Archive in the "Battles" Tab. Everyone who purchased a Season Pass while a Season was active will have permanent access to that Season in the Archive and any player can get permanent access to the most recent past Season for Crowns while all older Seasons will be available for Gems. 
Individual Seasons will also periodically open up for a limited time!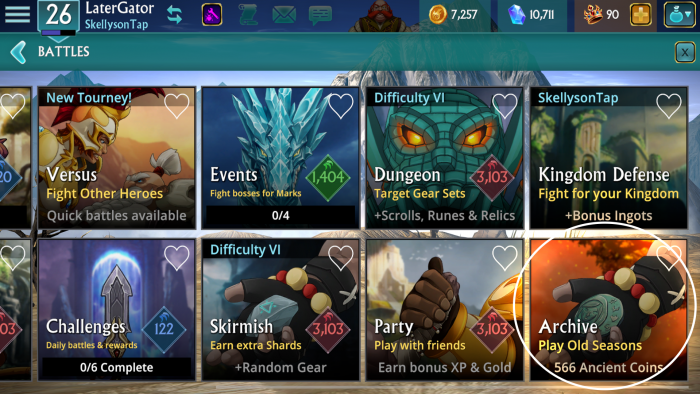 For more detailed information about all of the changes coming to our 1.3 Update, please check back for the full patch notes. 
CHANGES AND FEEDBACK
As a live-service game, we aim to refine the game with each update which includes fine-tuning features we release. 
As a small development team, we always need to carefully balance our time. We are always listening to what our community and broader player base has to say and our team will always try to respond to questions and feedback we get in the moment. Sometimes that means we just need to communicate more clearly or fix a bug ASAP and sometimes it means reworking a game feature (or creating a whole new one!) to help address any points of friction you folks might be experiencing.

Ongoing at the moment are reviewing some of the feedback we've gotten back about Kingdoms and Kingdom Defense, analyzing some of the brand new data we've got for that game mode and taking a look at the balance of some of our spells and gear in PVP because, based on your feedback, it seems like we need to do a bit of a review there. 
Like we said, we're a small team, so we're so grateful for the patience you folks give us and your positive, constructive attitude towards feedback.
Since it's winter at the studio, we're very happy for the warm and fuzzy feels. 😉  
Keep the feedback coming. We are very excited for you to jump into 1.3 and to see what we're up to for 1.4! See you next month for the September Community Update!

Need more discussion? Join the Puzzle Quest 3 community!