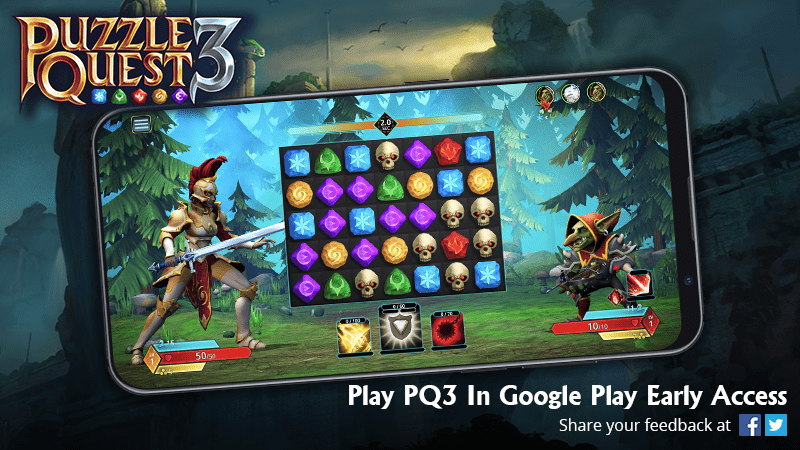 Hey there, Puzzle Quest fans!
It's been over a decade since we started this crazy journey, matching gems, slaying dragons, and collecting sweet loot. Time flies, and a lot has changed since those early days! Games have changed, people have changed, and the world has changed. One thing that hasn't changed though is our love for Puzzle Quest. With that in mind, the team and I are excited to share with you a passion project that has been years in the making. We're finally ready to start the soft launch of Puzzle Quest 3. You can play the game today in Google Play Early Access on Android, with iOS and PC support also on the horizon.
This first step into soft launch feels momentous for all of us – our teams here at Infinity Plus Two, 505 Games, and of course, all of the Puzzle Quest fans around the world. We want to make sure we do our best to deliver on an amazing game experience that stays true to the Puzzle Quest series and captures that original magic, but also introduces fresh exciting features that can redefine the puzzle-RPG genre once again.
The community is going to be a critical aspect of this journey. Our fans have always been at the heart of what we do, and we're looking forward to getting feedback and building upon what we think is an already great roadmap ahead.
What can you expect in PQ3? My short answer: A lot. We've been hard at work building a completely new puzzle experience that pushes the boundaries of your typical match-3. The puzzle board, the new 3D graphics and art (the world of Etheria, its heroes and enemies), the signature Puzzle Quest RPG features, the storyline – we've basically rebuilt an entirely new modernized Puzzle Quest game that we're proud of, and hopefully our community will feel the same.
But our journey is just starting – there's a lot of work ahead. We also have several announcements and reveals to share in the coming months, so stay tuned. On a personal note, I want to share my thanks to all the fans out there, for your support and feedback over the years. We couldn't have done this without you, and I hope you join us on this next adventure and try out Puzzle Quest 3 in Google Play Early Access. We're looking forward to rolling out on iOS and PC very soon.
We're going to do this right. I want a Puzzle Quest game that I can play forever, with old friends, with new friends, one that never gets old or stale, where there's always one more dragon with some sweet loot just over the next hill. See you in Etheria!
Steve "Sirrian" Fawkner

Here are some helpful links, including our Community channels and FAQs!