Hello Puzzle Quest 3 fans!
It's Sirrian, AKA Steve Fawkner, here. Looking back, 2022 has been busier and more exciting than a 2-for-1 hammer sale in Asgard! So, as we close this year, I wanted to share a few words for the Puzzle Quest 3 Community as we look towards our exciting journey in 2023.
In January this year, the entire team and I were excitedly working towards the official mobile release of Puzzle Quest 3 and Early Access on Steam. Finally, when March came around, we opened the gates, and Puzzle Quest fans, new and old, took to their devices to see what we had come up with. 
I've always felt Puzzle Quest games are a bit of a "raw uncut diamond". We cut and  polish them like crazy, but they'll still be a little rough around the edges here and there. Our responsibility then, is to listen to the community, and our team, and to keep furiously polishing that diamond.  Some of the things we saw you write were that the game was "fun" "challenging", you "loved the art", and that it was "different from the old Puzzle Quest", and as more and more reviews came in throughout out 2022, the team and I took it all in. Every bit helped inspire the evolution and changes we made throughout this year. 
This year was filled with so many changes and new additions. They came in the form of dozens of features and improvements that couldn't have happened without our dedicated team and the community. Every new update improved upon the last. I want to commend the hardworking teams at Infinity Plus Two and 505 Games for being collaborative, creative, and constantly committed to the success of this game.
I also want to thank the Puzzle Quest 3 Community at large. Your continuous passionate feedback has contributed to the game in both small and large ways. Whenever you fired up Puzzle Quest 3 to vanquish foes in Etheria, play new seasons, or comment on our forums or social channels, it helped us understand what you were enjoying and what you weren't.
Here's a few fun stats from this year that our Community might enjoy.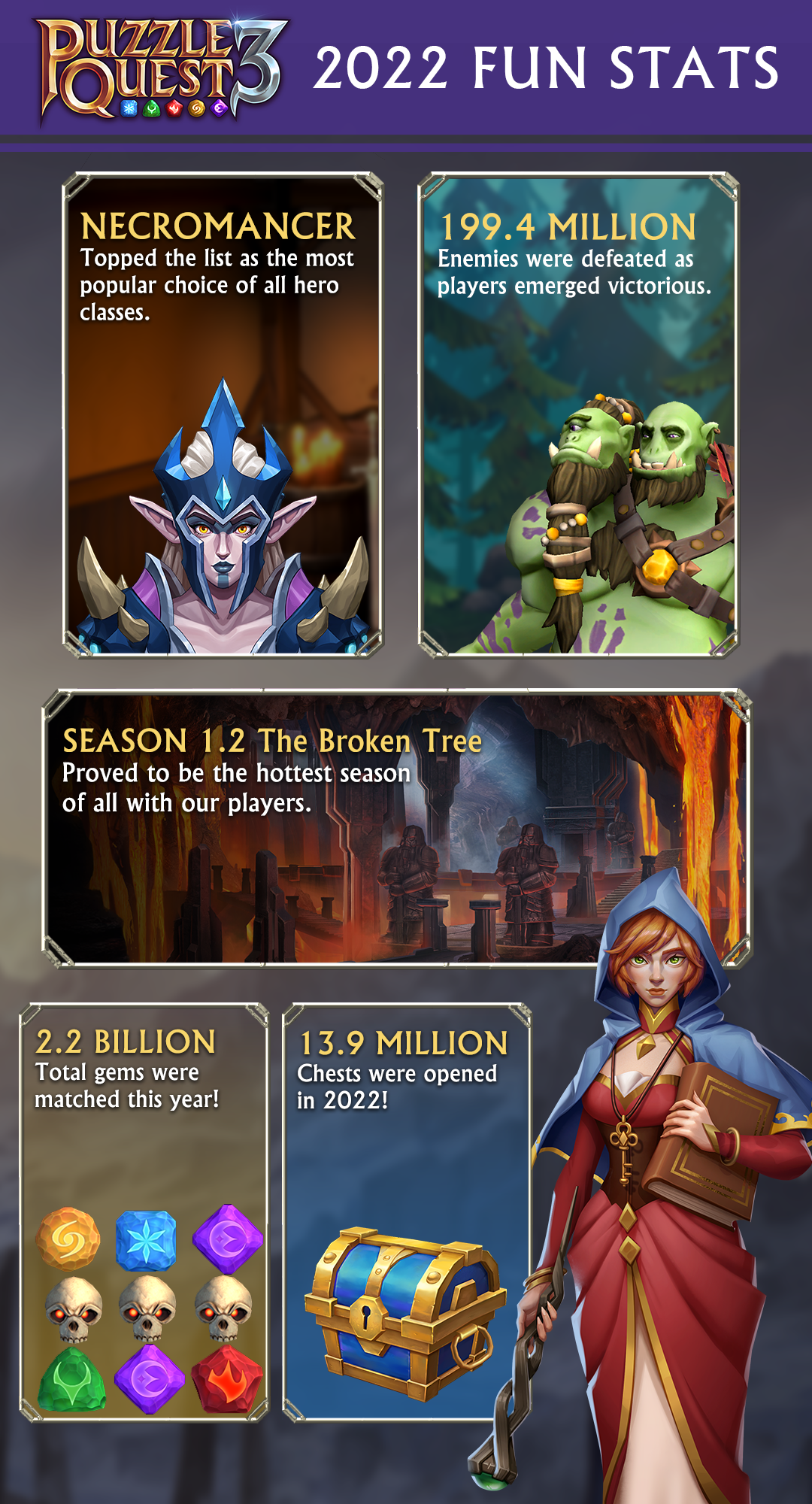 Looking ahead to 2023, we are excited to introduce  even more changes and seasons that will freshen up and polish the game we all love – Puzzle Quest!  So, feed the Ogres, polish the Greatswords, and bookmark your favorite spells in the Tome of Ultimate Destruction… It's going to be an exciting year ahead.
Finally, I want to wish everyone, including the hardworking team here at Infinity Plus 2 and 505 Games and the entire community, a happy holiday season, and here's to an incredible New Year.
We look forward to seeing you in Etheria in 2023.
 Steve "Sirrian" Fawkner