The Summer sizzle arrives in Etheria with the 1.2 Update!
This month in Etheria, we're concluding Season 1.1: The Mines of Khazdhul! We battled Dark Dwarves, gathered Anthrite, and began our journey in returning the dragonheart to Ygdratha.
With the end of Season 1.1, we're looking ahead, not just at upcoming content but forthcoming changes to our roadmap. This roadmap is not always final as content and dates may change.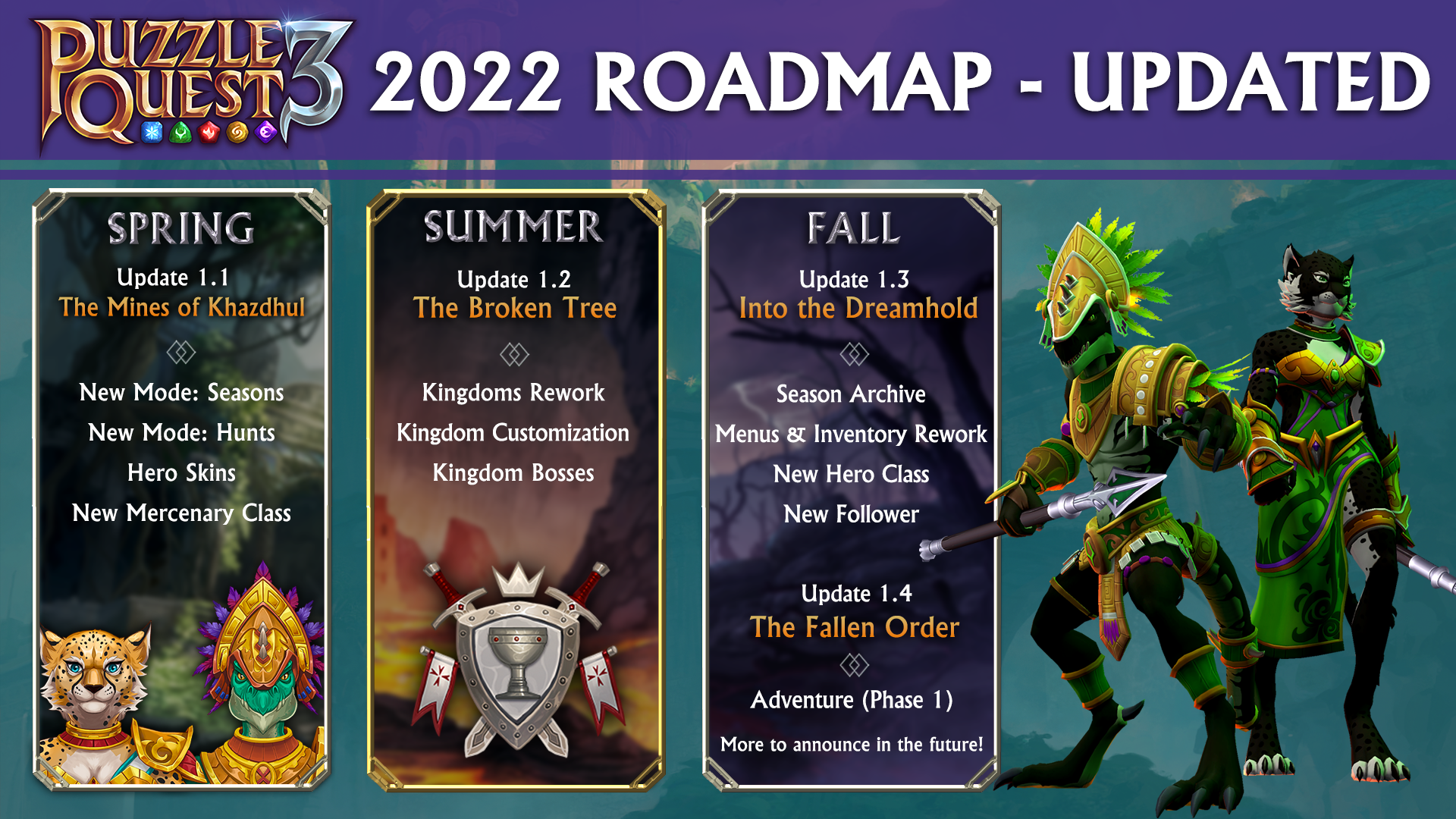 2022 Roadmap – June Update
Eagle-eyed players may have noticed that we adjusted a few things on our roadmap. In particular, our Follower Upgrade has been moved out of 1.2. There are a couple of reasons for this:
The Kingdoms Rework was very extensive, and we wanted to make sure we got that right and gave it the full time it needed

We did not want to rush the process of designing the Follower Upgrades and deliver something to you that was just not going to feel complete.
Don't worry! It'll be back in the schedule for one of our updates later in the year.
Introducing: "Adventure"
This one new feature may have stood out to you on the roadmap! We're currently designing and building a new live events system we call "Adventure" that will be introduced in phases through multiple updates. It will take some time to complete, as this will be one of the most significant additions we have made to Puzzle Quest 3 yet! However, we are very excited to deliver more exciting, dynamic, and engaging live events that (in some ways) take inspiration from our earliest Puzzle Quest roots.
But! We are starting small and are currently aiming to get the first phase of Adventure into your hands in Update 1.4: The Fallen Order. We'll share more about the upcoming system in a future community update!
There will be some spoilers for Season 1.1 below, so turn back now if you prefer to avoid them!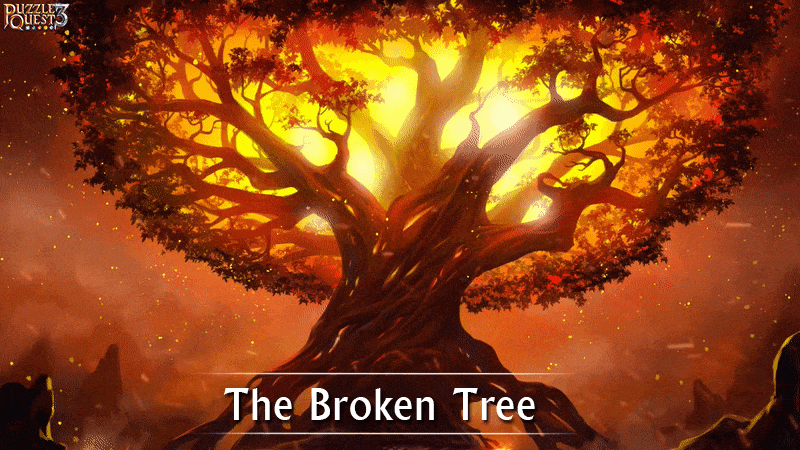 1.2 UPDATE: The Broken Tree
Having defeated the great Anthrite Worm, Season 1.2 meets our eclectic party right as they escape the Mines of Khazdhul. The air is thick with ash as our party searches for a way to fix the broken Ygdratha. Get ready to battle new enemies and make new discoveries in Etheria's lore.
Here's a small glimpse of what is coming!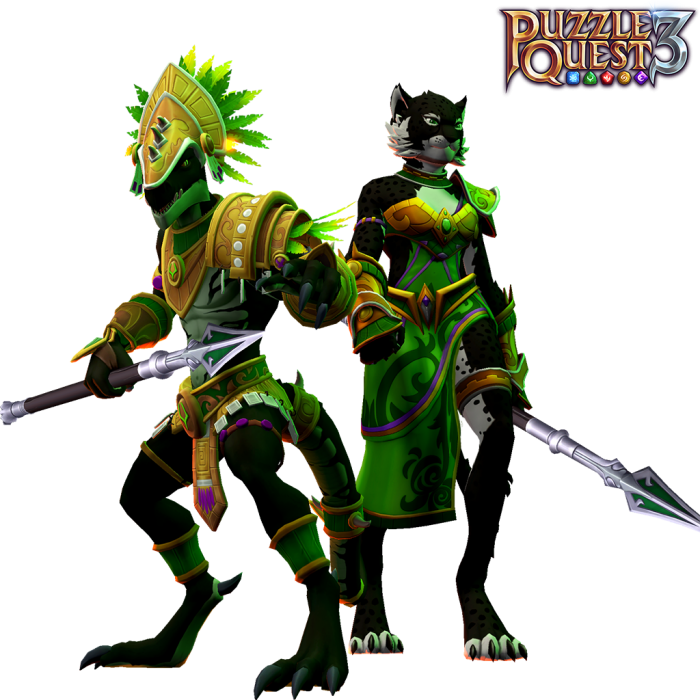 New Hero Skins
We're offering new skins in 1.2, a secondary mastery skin for Mercenaries, who became our first new Heroes in 1.1. We've also added a new skin for the Assassin class.
The Kingdom Rework
"We want more to do in Kingdoms" is something our community has undoubtedly told us time and time again! We've heard you. Here's the big one!
The upcoming 1.2 Update comes with significant changes and additions to make it more engaging and offer our players more to do with their friends.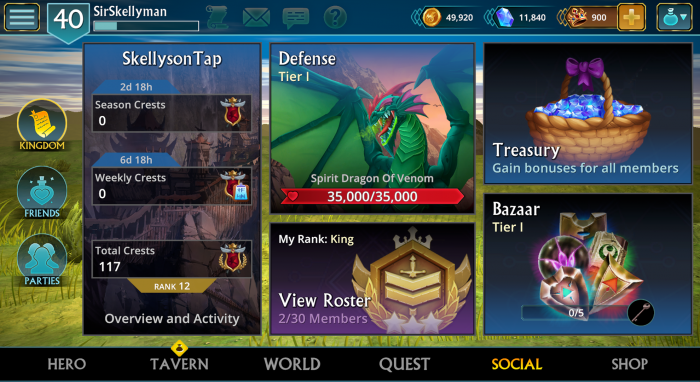 You'll notice that the Kingdom UI itself looks a bit different with new features like Kingdom Defense, Treasury, a roster, and the updated Bazaar. The Kingdom Overview will now also show recent Kingdom member activity and help players manage kingdom members and leaderboards, making kingdom performance and goals trackable.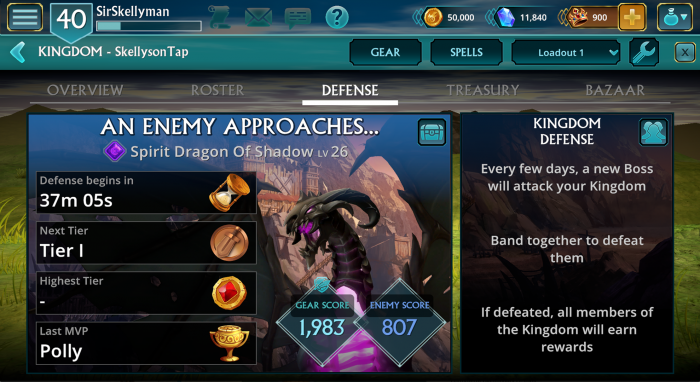 Kingdom Defense
Kingdom Defense battles will be a new addition to the Kingdoms. Due to the actions of Auri, five spirit dragons have been released from the great elemental trees and must now be defeated! Members of a kingdom must work together to defeat these elemental menaces.
Because of the changes to the Kingdoms, the current menu will be locked and inaccessible once the 1.2 Update goes live. To find out more, check out our announcement from yesterday on the Puzzle Quest 3 Forums.
New Gear, Spells, Minions, and Enemies
The 1.2 Broken Tree update also arrives with a bunch of new items for the avid collector or the constant adventurer.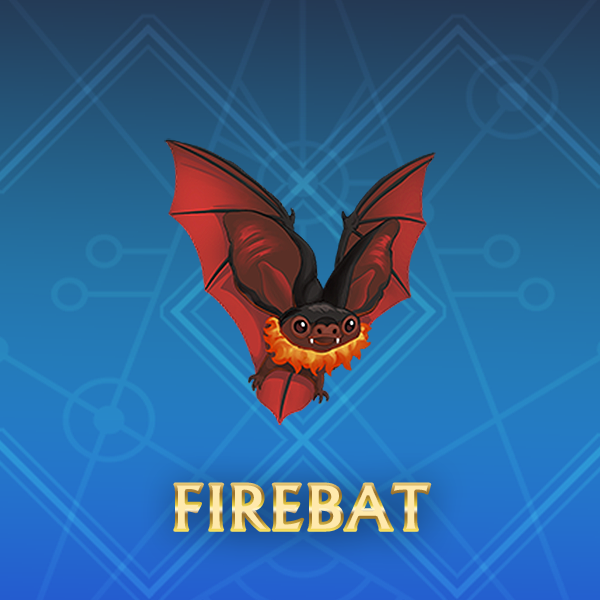 Look out for new friends popping up around the Tree of Fire! The cunning Firebat is just one of the many new cute but deadly minions that will help you on your journey. Of course, with new minions to level also comes new gear to collect and new enemies to combat!
More details regarding the Kingdom Rework, new items, and changes will be available in our patch notes when the 1.2 Update releases on Thursday, June 30th (AEST) / Wednesday, June 29th (PDT).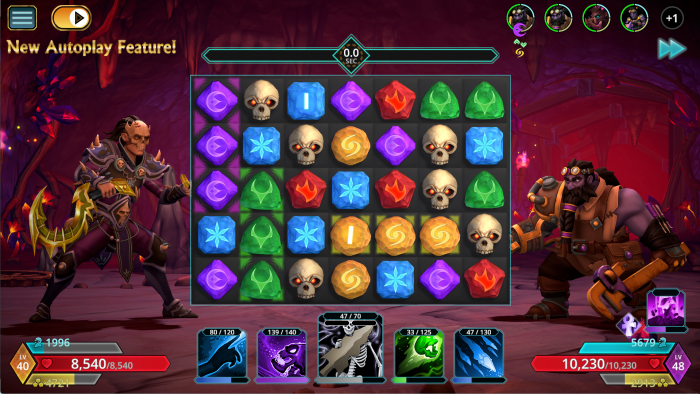 Autoplay
One of our quality of life updates in the 1.2 Update introduces the Autoplay feature. This will be the first rollout, so adjustments and improvements will be made over time. The Autoplay feature will be available for all modes except PVP.
Taking in Community Feedback
Since the beginning of these Monthly Community Updates, our goal has been to make sure you know what we've been working on and that we are listening!
Visual Accessibility
As part of a broader ongoing goal to improve accessibility in Puzzle Quest 3 across the board, we are reviewing our visual accessibility and what we can do to improve in direct response to suggestions and requests from our community.
As we started on our research to make these improvements, we also reached out to our players to get more detailed information about any specific areas of the game that they believe might need improvement for accessibility. If you would like to add your feedback, please check out our thread here: https://community.puzzlequest3.com/t/accessibility-feedback/2517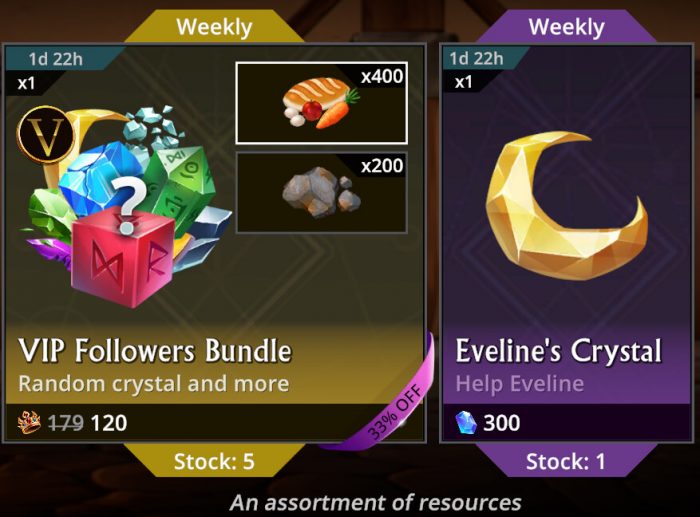 Crystal and Follower Packs
At the beginning of May, we announced some pricing changes to Eveline's Crystal Pack and the Follower Crystal Pack in the shop. As of this past weekend, the new pricing has been reflected, and Eveline's Crystal Pack and the Follower Crystal Pack have been reduced to 300 gems and 120 Crowns, respectively. Thank you to the many players who were patient with us regarding this becoming reflected in the daily deals.

Quit Button Issues
We have had a few reports from players experiencing issues with their quit buttons not working quite as they should. Unfortunately, upon investigation, the issues with the Quit button are a broader problem with the game engine, and we are also waiting for a resolution.
Inventory
We know this is a big question and top of mind for many players. The Inventory Rework comes with a more considerable rework to the game menus in our 1.3 Update. Thank you for your continued patience, we will have more to share about the Inventory Rework in the July Community Update.
As a live-service game, Puzzle Quest 3 will continue to change and evolve with each update. We know there are always more questions and feedback. Keep sending them in! Check back in July for our next Monthly Community Update!
Need more discussion? Join the Puzzle Quest 3 community!