Happy March Adventurers!

Puzzle Quest 3 is officially celebrating its 1 Year Anniversary with an abundance of announcements and goodies. We've got a lot of things to cover, so without delay, let's dive into loads of exciting news!

We're coming to console!
Mark your calendars folks, Puzzle Quest 3 is officially making its way to console on April 18th! 
We've been working hard behind the scenes to bring the latest entry in the series to a TV near you, and we're excited to share that players will soon have the ability to play Puzzle Quest 3 on Xbox Series X/S, Xbox One, PlayStation 5, and PlayStation 4. You'll be able to experience everything PQ3 has to offer including all of the content updates we've introduce over the past year on current platforms, including the Mercenary and Warlock hero classes, all of the Seasonal Storyline via Archives, and of course, Adventure Mode!
We're only a few weeks away, so stay tuned for more information as we get closer to launch!
Now let's break out the cake!
It has been a HUGE first year for Puzzle Quest 3. We've done a lot of work to the game since our launch on March 1st 2022 being driven by a pretty simple, but pretty big aim…

"Keep making Puzzle Quest 3 more Puzzle Quest."
Being a free-to-play game did mean certain things would be a bit different to the previous Puzzle Quest games, but when we looked at the game we realized there were still so many opportunities for bringing that fun Puzzle Questy goodness front and center to the experience of our players.
Throughout Year One, we made a lot of changes driving at that goal, ultimately culminating in the introduction of Action Points and enemy turns which we think took a huge leap forward.
As we head into Year Two, we aren't taking our foot off the break. As the very Aussie team says, we are "gunning it" into the future!
At this point, we want to take a moment to appreciate and acknowledge the entire Puzzle Quest 3 community who have continued to support us and provided feedback that has helped shape the game so far. We literally couldn't have done this without you and we hope that you'll be as excited about our 2023 year as we are!
We're proud of how far Puzzle Quest 3  has come in just a year and want to celebrate this with our community. So, as we jump into our first update of year two, we wanted to give you some tokens of our appreciation!
Log in to collect your Birthday Cake skin!
Starting today, players can log into the game and collect their very own Birthday Cake skin in honor of Puzzle Quest 3 first anniversary! The skin will be available for 30 days so don't forget to grab your piece of cake before its gone!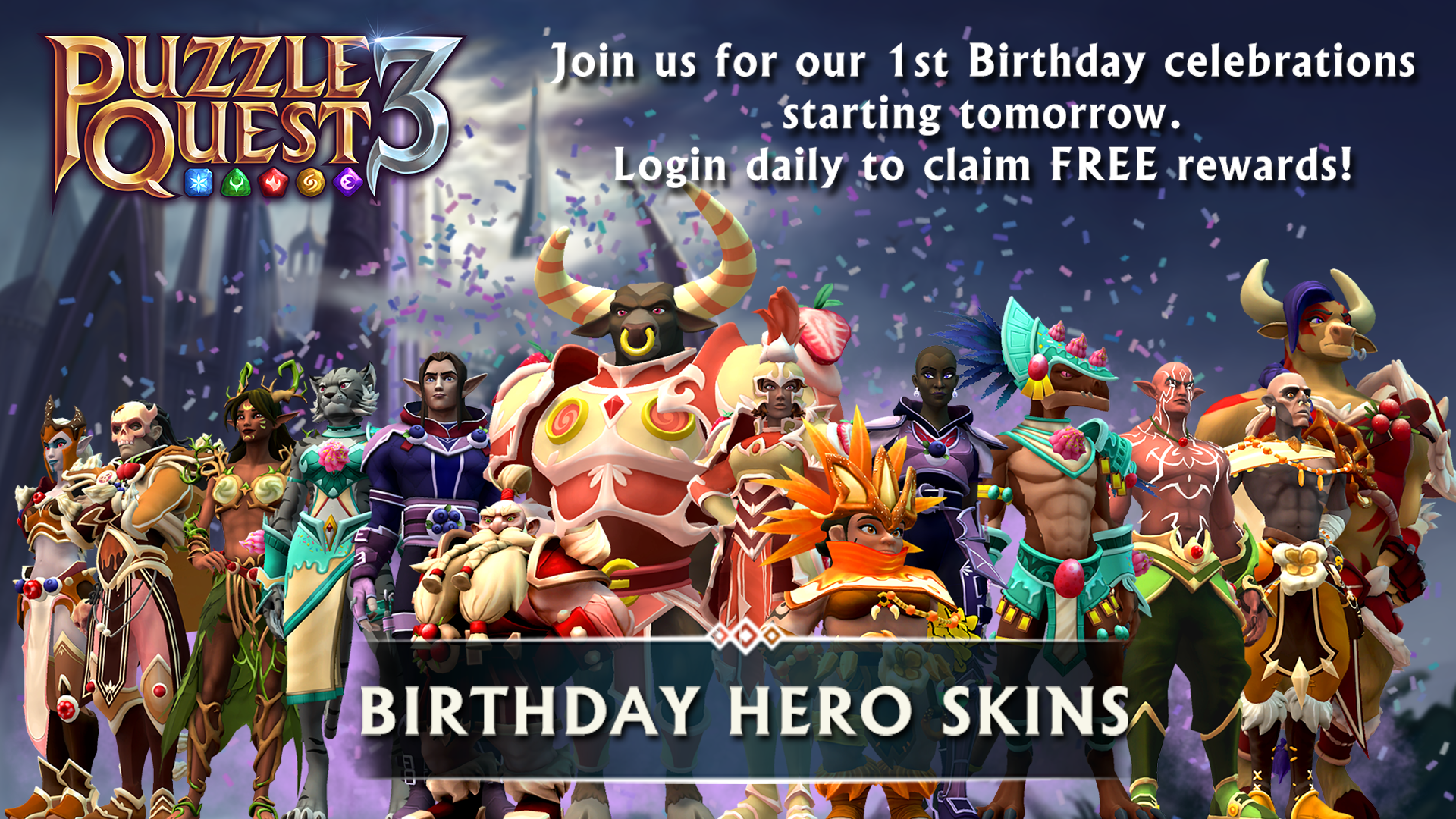 We're also celebrating this month with a few giveaways both in-game and on our social channels, so be sure to also follow us on Twitter, Facebook, and Twitch to stay up to date with all of our events.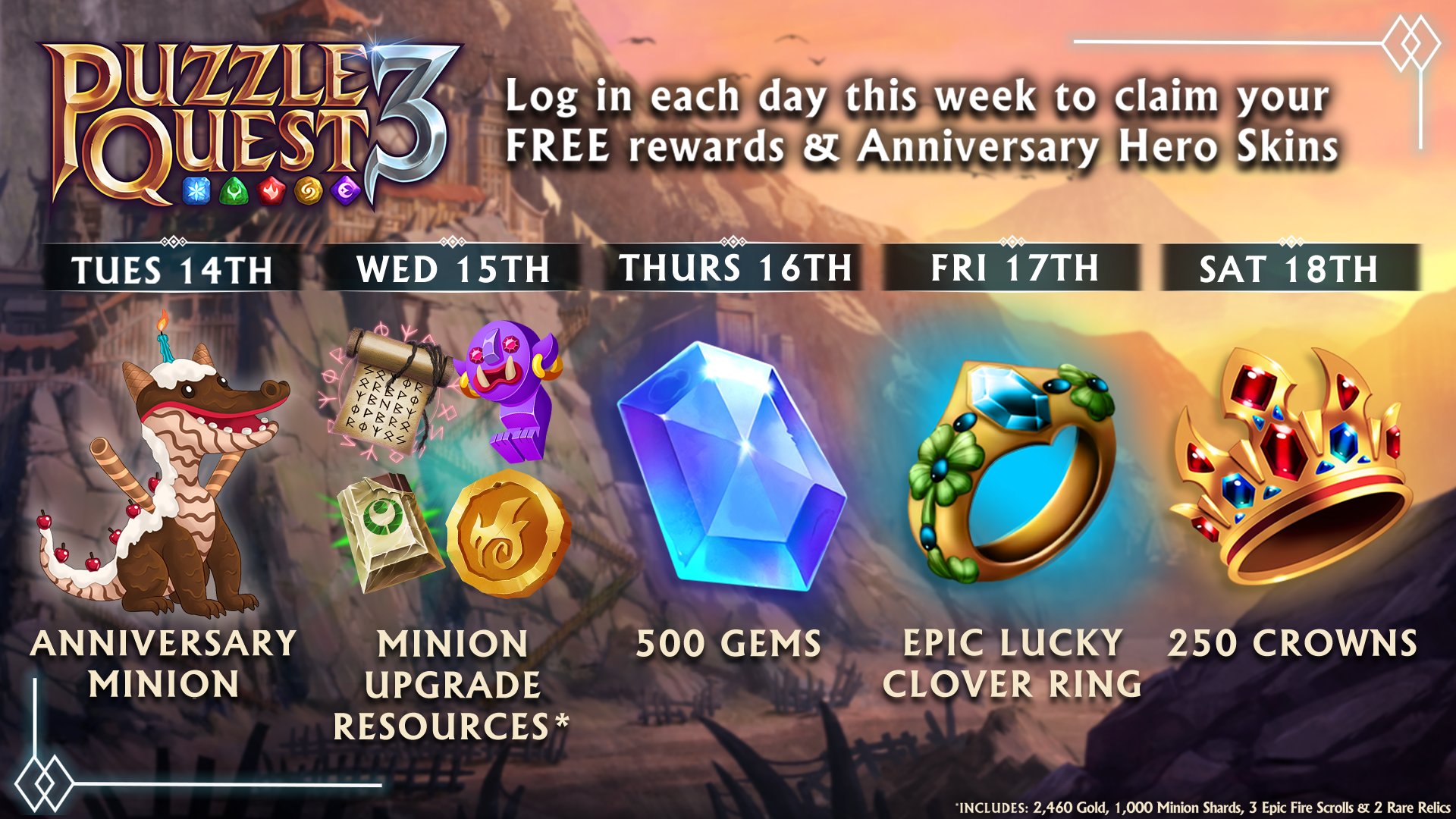 We're very excited for a month of celebration as we lead up to our launch on console platforms, but there is plenty of Puzzle Quest 3 excitement on the horizon, with big updates planned for the rest of the year. Look forward to more details on our roadmap in an upcoming blog!
Thanks again for an amazing year so far! Here's to an exciting month of celebrations, and we hope to see you on console in April!

Need more discussion? Join the Puzzle Quest 3 community!