Updates, Roadmaps, and future changes coming to the Puzzle Quest 3 community!
Our first official Puzzle Quest 3 update landed just last week, bringing exciting new content, a new hero class, and new features. With many more updates planned for the future, we're starting a new initiative to keep our community informed as Puzzle Quest 3 evolves.
As you'll soon find out, it's a lot! Today marks the start of our Monthly Community Update series that will give players a little glimpse into the road map for Puzzle Quest 3. These updates will serve as our bridge to the community to address questions that we see online and give players insights into the game's development updates, both large and small.
Let's dive into all the things that are happening in Etheria!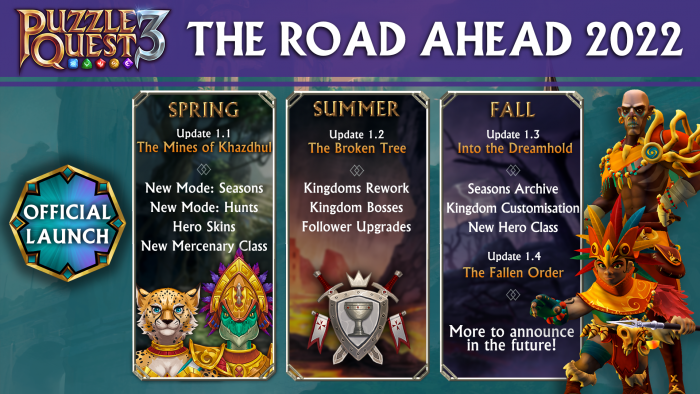 Behold! Our first community roadmap!
Please keep in mind that these dates aren't set in stone and may shift a little. As we get closer to each update, we'll share more sneak peeks and details through our official social channels, blog, or Twitch streams. With that little caveat in mind, let's take a deeper dive into the specific updates happening with our first major update, Patch 1.1 – The Mines of Khazdhul!
1.1 UPDATE: The Mines of Khazdhul
Already, we have heard the calls for more content to adventure through the world of Etheria. We've had two months of Etheria on mobile and Early Access on Steam. With last week's official update, we usher in our first Season called The Mines of Khazdul. Join Adhakus and Grungli as they traverse through the deep undergrounds of Khazdhul to uncover what the deceitful Dark Dwarves are planning.
As you play through this adventure, there's also a ton of new content to uncover, so here are some of the significant things we've added and addressed in the 1.1 update!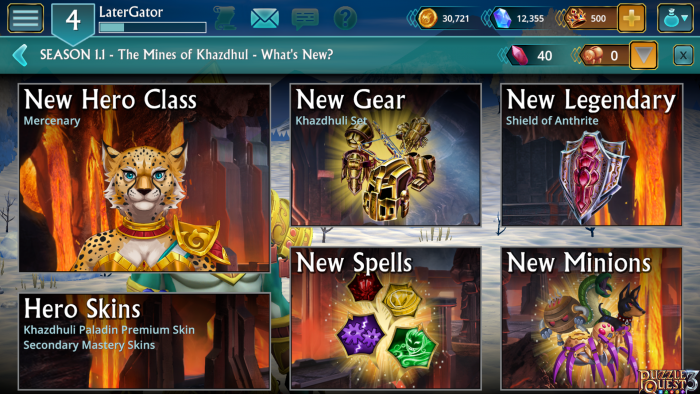 The New New: Class, Spells, Gear, and Currency

Say Hello to the Mercenary! They may be heroes for hire, but they're also adding some style to our current Hero class roster. We know that having a variety of hero options is something players have wanted. We wanted to give players more options not only with different classes but also with different races. Our new Mercenary classes feature the Ssarthi and Beastfolk.
A new class also comes with new spells, adding to the already immense pool of spell options. New spells also open doors to new ways to think about your strategy when jumping into battle.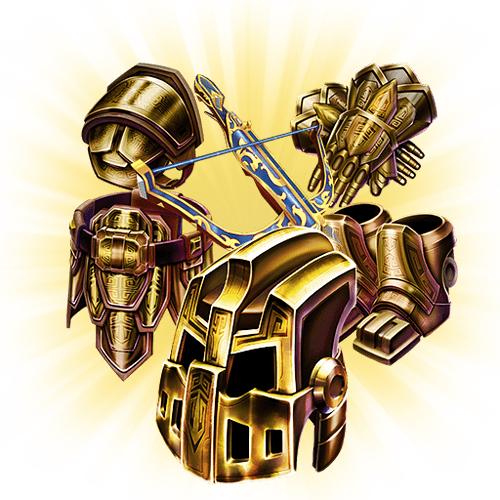 We've also added a new gear set to Puzzle Quest 3: the Khazdhuli set in alignment with this update. This Dark Dwarven forged set gives a variety of bonuses, including power and reduction against the new Khazdhuli enemies depending on your set bonus.
More to do: Seasons, Hunts, and more!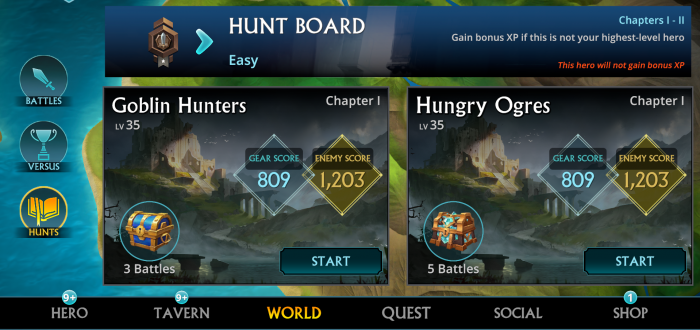 Something we heard from many players, especially those who have been with us since mobile early access, is that they needed more to do. We have been working on just that! We've got a plethora of content and features that provide new experiences for players.
Hunts offer a new variety of features so players can experience a new kind of battle mode. This is a great way to level alternate heroes without having to progress through the same main storyline for each alternate hero and gain bonus XP.
Seasons
Seasons are an all-new storyline centering around forbidden dwarven magic and giving seasonal rewards for players. Seasons will have three main chapters, with additional difficulty modes that unlock as the season progresses. Unique Currency will also be tied to each season, which players can utilize to purchase other season items or season skins.
Taking in Community Feedback
We also added a number of Quality of Life changes over the month of April and in this update in order to help improve the game experience for our players.
Inventory & Rewards

We know everyone can always use a little more space. So with the 1.1 update, we've added 25 more inventory slots, changing the starting 50 to 75.
And with more space comes more room for rewards. After much feedback, we've adjusted the extra shards in quest and chests. Players will also experience an increase in Diamond and Ruby chests, while the wooden chests will have decreased. Players will also find that upon completing Chapter 15, they'll receive a Legendary Bloodfang Shield! Take that, enemies of Etheria!
But what would rewards be without mentioning crystals for your followers? As many players know, we sent out extra follower crystals! After adjusting some of the follower side quests or newer players, we sent out additional crystals to all players so our veteran players would also benefit from this change. In addition to these extra crystals, we now offer a variety of Follower Crystals in our Daily Deals! You can read the detailed post in our forums.
Auto End Turn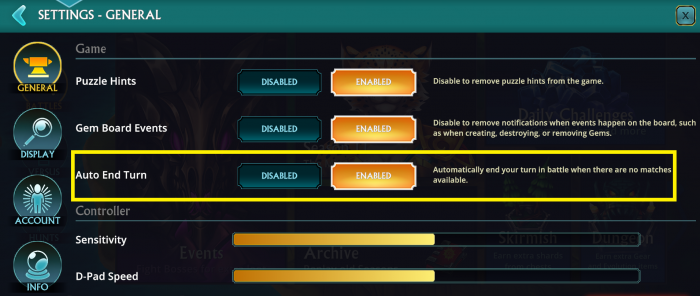 Something many, many, players wanted was the ability to end their turn during matches. We know that many players wanted to preserve their battle strategies, so we've added the Auto End Turn option in settings. When enabled, an "End Turn" button will be available on the top of the board. Players can now tap this button to end their turn.

How To Guides
We know the game's deep mechanics and many features can be overwhelming to new players. We've updated the Help button with a "How-to-Play" feature for new players feeling a bit lost.
We've also developed some early tips and tricks blogs to help new and returning players so that you can improve your game experience. We'll continually update our blog with lore, character, and educational blogs that can help players navigate Puzzle Quest 3 as it continues to expand.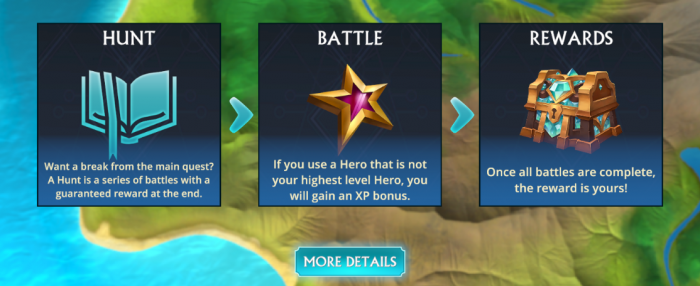 Optimizations & Quality of Life
Another common piece of feedback we received mentioned a desire for optimization and game performance on mobile devices. To he
lp address some of these concerns, we've created a variable frame rate setting that helps extend battery life, reducing the overall frame rate except when swiping gems or casting spells during battles. Gem-matching is now more responsive when playing at 30FPS. We've also added some stability improvements to co-op and parties, which should drastically decrease the among of crashes you've reported. We are continuing to monitor this as well.
A bit of Privacy
Co-op parties can now also be marked private, so only friends or kingdom members can join. Making new acquaintances can be great, but we totally understand that sometimes you just want something with chill vibes between friends. We've also made it easier to rename your hero and copy your name code.
For the detailed 1.1 Update patch notes please refer to our post on the Official Forums.
We know there are still plenty of questions and feedback our players still have for us, and that not all of your feedback was addressed this month, and realistically we know not all feedback or suggestions can be addressed in just two months. We know there are a lot of questions regarding Kingdoms, that we hope to address in the upcoming Community Updates.
We encourage you to continue to post your feedback to our official community channels. We do read them, and they give us valuable insight and are a part of our development process.
As we continue down 2022, we hope that these monthly community updates will help you stay up to date on what's coming to Etheria this year. See you in June!
Need more discussion? Join the Puzzle Quest 3 community!