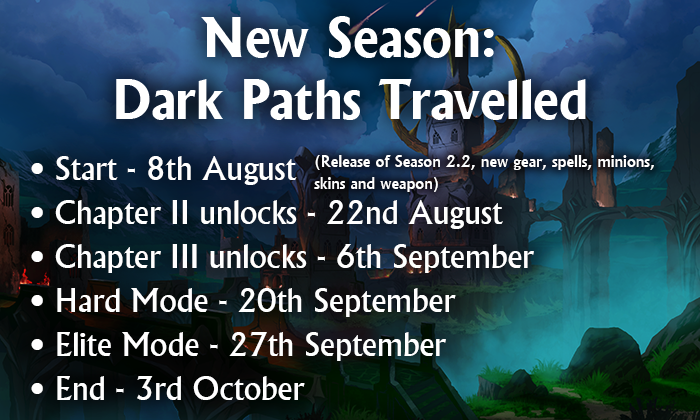 This update releases on Tuesday August 1st at 00:00 UTC
The Season begins at daily reset (00:00 UTC) on Tuesday August 8th
Values in bold are affected by the rarity or element of the item.
Available only in the Cache items in the Season shop, this item will drop at Legendary rarity.
Sculpted in the image of the Landshark soldiers, these boots are unfortunately too small to fit on a Landshark's foot. For most other races, however, they are just the right size.
When matching 8 or more gems, 50-80% chance to pick a random gem, and destroy it and any gems below it. If I have haste, pick two random gems instead.
Values in bold are affected by the level or rarity of the spell.
The Items, Spells, and Minions use new Relics obtainable through the Season Dungeons to evolve.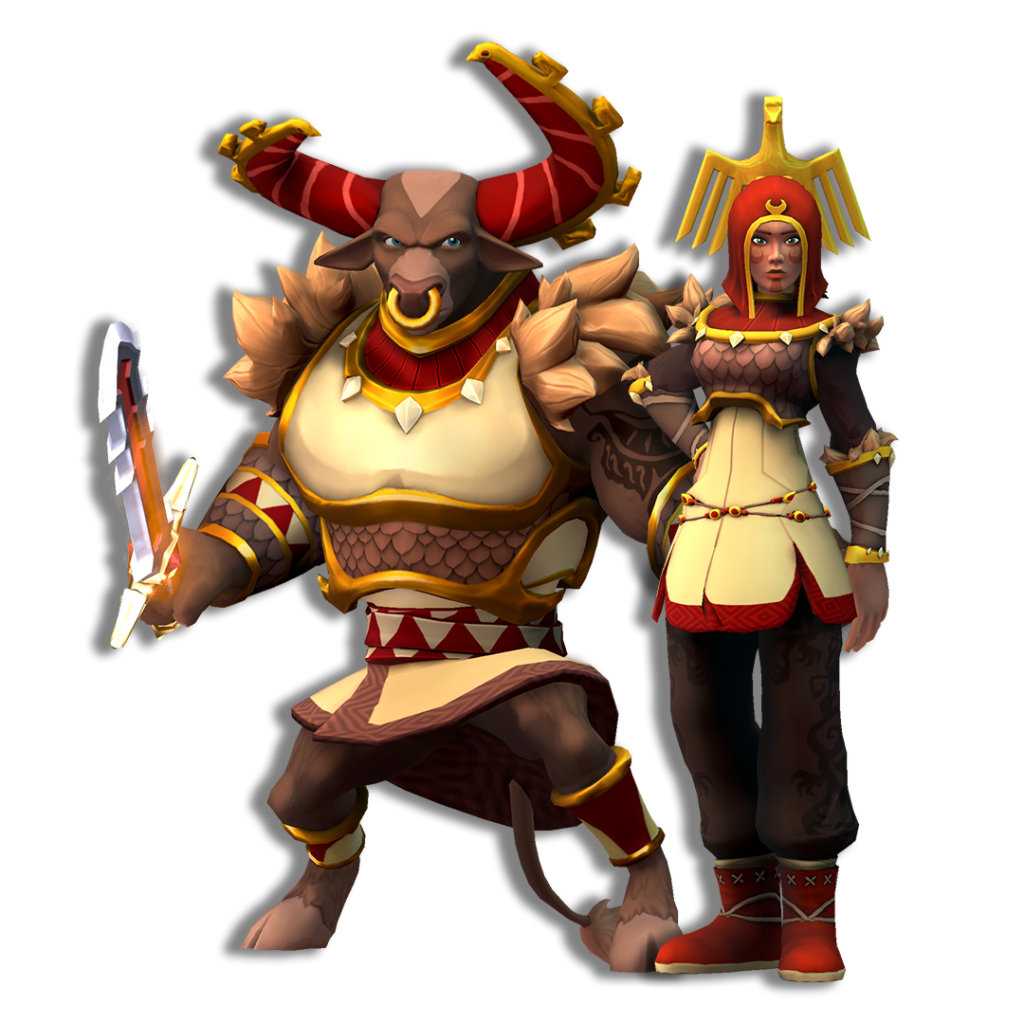 You too can be just as fancy and comfortable as the Trarg of Trarg!
We've added a brand new Tasks Menu to the game, that you can find with the help of good buddy Gong!
We've added this because we wanted a central location for
This is where you can see the tasks and goals you could work to achieve in the day all in one place!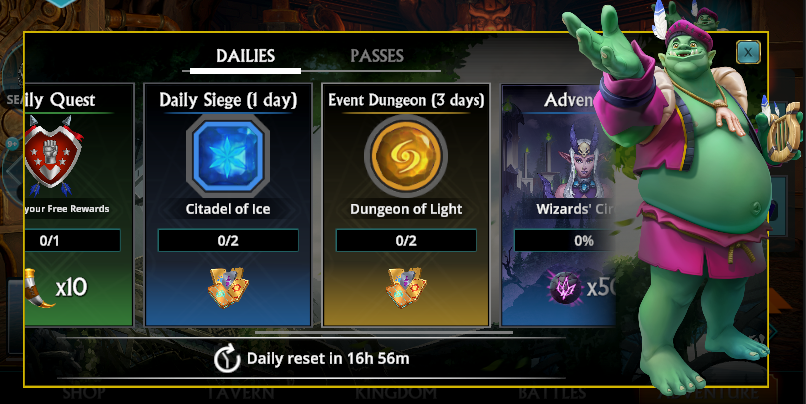 Added tab to view all the passes, and progress toward your next rewards… You guessed it- All in one place!
Another one of the things we've gathered into the Task Menu is a new Advent Calendar! We've sort of informally run these before, but with multiple elements in multiple different places.
Now for special events, you can find all of the activities… Once, again… In one place!
Each Advent Calendar can have the following:
Flash Offers associated with the event

Giveaways!

Special Event Tasks
The time has come for our first major update to PVP!


We had two particular goals with this update:
Make leaderboards more competitive rather than clustered

Get people more appropriate opponents when matchmaking
In Tourneys, you now have the ability to choose from 3 opponents before entering into battle!

These opponents are chosen from three different criteria:

Level

Current Tourney Points

Gear score
Your Gear Score is based on the highest Gear Score that can be made from the items you own which adhere to the Tourney's restrictions, not your currently equipped Gear Score.
The UI for Versus has been updated to reflect the above changes.
3D character previews have replaced the 2D portraits in the pre battle screen.

A direct link to the Honor shop has been included in the Versus screen.

The Join Tourney screen has been given a refresh.

You can also now view the rewards and Leaderboards from a Tourney before joining.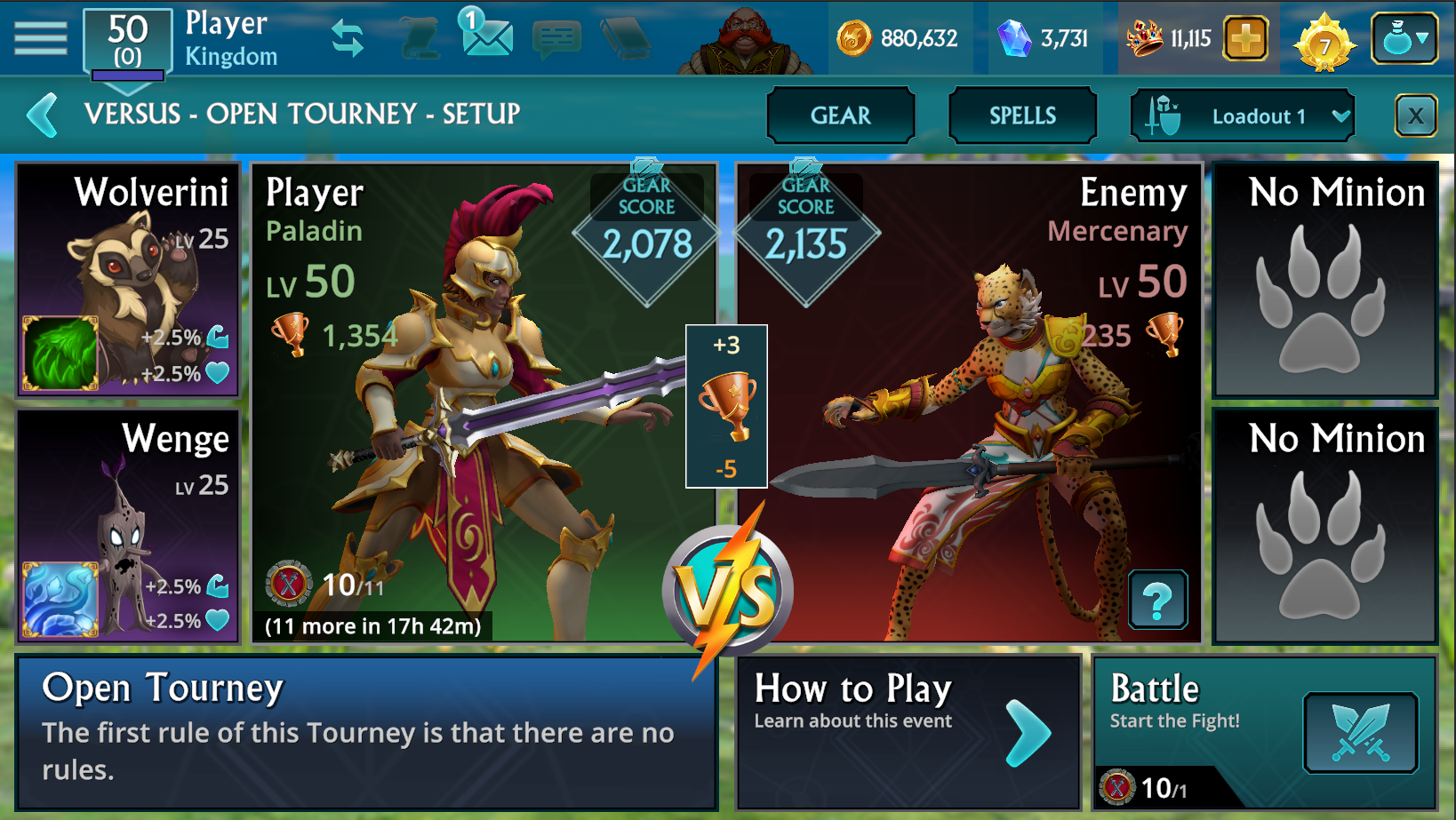 Opponents will now be worth a set number of points, based on their perceived strength, rather than every opponent giving the same number of points.


The base score has been changed from 1000 to 700, and further increases to the base score are made based on the strength of the opponent
The strength of the opponent is determined by their stats

 
The bonus to your score based on your current win streak has been removed (but you'll still get to see your current win streak)



There will now be bonuses instead of detriments to the final score based on your Armor, Resistance, and Life remaining at the end of battle.

Bonus of up to 10% each based on the armor, resistance, and life remaining (for up to a total of +30%)



The turn detriment to scoring has been removed, so winning faster does not guarantee the highest score

This in particular is because the turn detriment was forcing people into builds that were not fun in order to play optimally. This just wasn't particularly enjoyable for the person putting the build together or their opponent.

Both the Tier Rewards for Tourneys, as well as the Leaderboard rewards have been updated. Rewards will now increase as the Player climbs Leagues in each Tourney.

Generally this will be an increase to all rewards, except for:

First place in the Open Tourney Leagues

Places 2 & 3 in the Bronze League which has seen a slight reduction



The total scores required for rewards have also been updated to reflect the changes to the scoring.


Honor rewarded from each battle has also increased slightly as you climb Leagues.



We recommend updating your version before participating in Tourneys in order to receive the updated rewards and experience.

Tourney rotations will reset with the beginning of Season 2.2.

 

The Elite Tourney weapon group pool has been expanded to include two more groups of weapons:

Daggers, Crossbow, and Bows

Falchions, Two-Bladed Swords, and Staffs


New items have been added to the Honor Shop:

Diamond Key: 720 Honor
Epic Relic: Level 25+, 600 Honor, 5x per week
Legendary Relic: Level 35+, 1800 Honor, 5x per week
Armor Glyph: Level 35+, 2000 Honor, 1x per week
To add more variety to Adventures, we've now added support for Blocked Nodes! These are nodes that will be blocked unless a requirement is met. e.g:

Hero class

Adventure difficulty
The Adventure shop can now be accessed through a button in the top right of the Adventure Map. 

The shop is now split into:

The Energy tab for Energy-related items

The Powerups tab, for crystals and potions etc


We've added Auto-Advance into the Conversation Menu, which will automatically move onto the next Conversation item without the need to interact with the game

You will still need to make your choice when provided with an option

Enabling Auto-Advance will still allow you to interact with the Conversations as per normal, so feel free to mix and match how to interact with Conversations!

This can be toggled on from the Top Right of the Conversation menu



Added new Conversation specific options to the Settings Menu General Tab

Text Animation Speed – Changed the speed that the text animates during conversations. This can be changed from Very Slow to Very Fast.

Auto Advance Conversations – Enable or disable Auto-Advancing from outside of conversations

Advance Interval Time – The amount of time before the conversation will auto-advance to the next conversation piece. This is to help provide players their amount of time they want before going to the next step.


Final attack damage in a battle shows for longer before fading out


Added button to access the kingdom leaderboard to the title bar in the kingdom menu


Added wallet button back onto the header in the shop menu


Added possible minion and crystal rewards to Dungeon reward menu


Collecting and Crafting from followers will now generally use the smaller wallet popup, if a minion, item, spell or extra inventory slots are gained, then it will use the full screen reward menu


Added confirmation popup before spending gems on follower crafting


Added scroll bar and a larger gradient mask to the Chest Slots to make it clearer that the area can be scrolled if not all slots are visible.


Improved readability on the bonus key and duration text when sending minions to open chests


Item tooltips now auto-scroll when the text exceeds the size, rather than shrinking the text


Fixed issue with Autoplay causing endless-casts when no matches are available

Tourney Trophy bonuses are now correct

Fixed issue where player dying during long Gem Cascade causes soft lock

Fixed issue where Arachnophobia prompt fails to display the first time a spider is encountered

Fixed issue where Plague Priest's Aura of Antharg healed more than intended

 

Fixed issue where Basilisk's Poisonous Hide updated so that the first of the 2 turn duration is not immediately consumed

Eldritch Wrap Fixed: Correctly applies Doom to enemy instead of self, and correctly only applies to physical damage

Fixed issue where the game doesn't automatically assign a new main hero when the current main hero is deleted

Fixed issue where Dwarven Boots would trigger more than once per turn.

Rarity color is no longer missing from certain spell descriptions

Fixed issue where the player's selected Hero character appears over the enemy character in the enemy's information window when the user selects the '?' Option.

Fixed background environment not reloading in on some menus after looking at the change hero menu
Fixed issue with overly sensitive pinch to zoom

Fixed issue where Flash offer bonus reward icons appear blurred

Fixed issue where recommended adventure difficulty was selecting 'Ultimate' instead of expected difficulty
Fixed issue where kingdoms could get reset twice changing the bazaar deals.

Fixed issue where VIP rewards could not be collected if you used the badge in the system bar

Gold total in gear/spell upgrade pop-up does not update, preventing upgrade if player collects mail while in the gear screen

Can be resolved by exiting and re-entering the screen



'Rooster's Crow' passive is not triggering when 10+ yellow gems are matched

Reflect can be triggered after an enemy is defeated- this can cause a loss with the player taking reflected damage before the battle resolves


Leaving game in background causes black background


Minotaur Paladin tail is way too excited


Plague Witch 'Infuse Poison' can remove Hero Gems (Imp Gem)


When the board is in a state where there are no Gems in that moment available to match, the "End Turn" prompt will appear. This can happen:

If a large amount of Gems have been destroyed in a move and new Gems have fallen in
When selecting to undo a move in AP mode
After casting a spell to replace Gems and new matches are now available.
On some devices, there is a small line on the edge of the Hero spell icons in the Hero select screen

Issue with the way Warlords Battleaxe applies damage


Doomknight has duplicate spell icons


PQ3 causing some devices to overheat (iOS/Android/Xbox Series X)


Some Premium Skin have incorrect descriptions of where they are attained



Curing Doom immediately triggers true damage of remaining stacks

Game soft locks when defeating an enemy in Dungeon mode then restarting the game while the Altars are visible then continuing the battle

The description text for the Trarg II gear bonus exceeds the bounds of the UI element

Items in the Adventure shop do not appear


Matchmaking will now use the perceived strength of yourself and your opponents, rather than gear score.

This will take into account your overall power level and results in much more accurate matchmaking than only matchmaking based on Gear Score



Hero avatars will only have their gear updated if they have increased in power from what was stored previously.

 

If an appropriate opponent can't be found within your Tourney's League, other leagues in the same Tourney will be searched as well.
It's now possible to invite friends while in a party battle
Added Spell descriptions to the purchase confirmation window
Fixed an issue where curing Doom immediately triggered true damage of remaining stacks


Fixed an issue where the game soft locked when defeating an enemy in Dungeon mode then restarting the game while the Altars are visible then continuing the battle


Fixed an error that occurs when a Deep Gem destroys a non-matchable Gem (Death, Imp, Treasure)

Fixed issue on Playstation where redeeming the Azure Crusader's Bundle prevented the shop from opening
Fixed issue where if the Debuff tutorial is triggered from being stunned by the enemy, the game would no longer continue until the tutorial is dismissed


Condensed Trarg Gearset bonus text to avoid text overlapping or exceeding bounds of the UI


Corrected the displayed number of items selected when salvaging a single equipped item


Fixed issue where Salvage displayed multiple results when only 1 item was in the inventory


Fixed issue where, on some devices, there is a small line on the edge of the Hero spell icons in the Hero select screen


Prinny & Wenge's elements now match their spells as Dark
Fixed pink sections on Trarg Bowman


Weapon effects will now correctly scale to match the weapon


Fixed 3D character renders not appearing at Very Low quality


Fixed rendering effect of the Assassin's ultimate spell at various levels